Mdoel: LT47BGP
Ice Factory Moving Ice Maker
Ease of Storage
You can move and remove the ice tray whenever you need more freezer space.
* Product images are for illustrative purposes only and may differ from the actual product.
Shelf "Pull-out-Tray"
The sliding pull-out-tray allows you easy access to items in the back of the refrigerator.
Led light
Energy efficiency and greater durability
LED light gives you greater energy efficiency and has a longer life than conventional indoor light.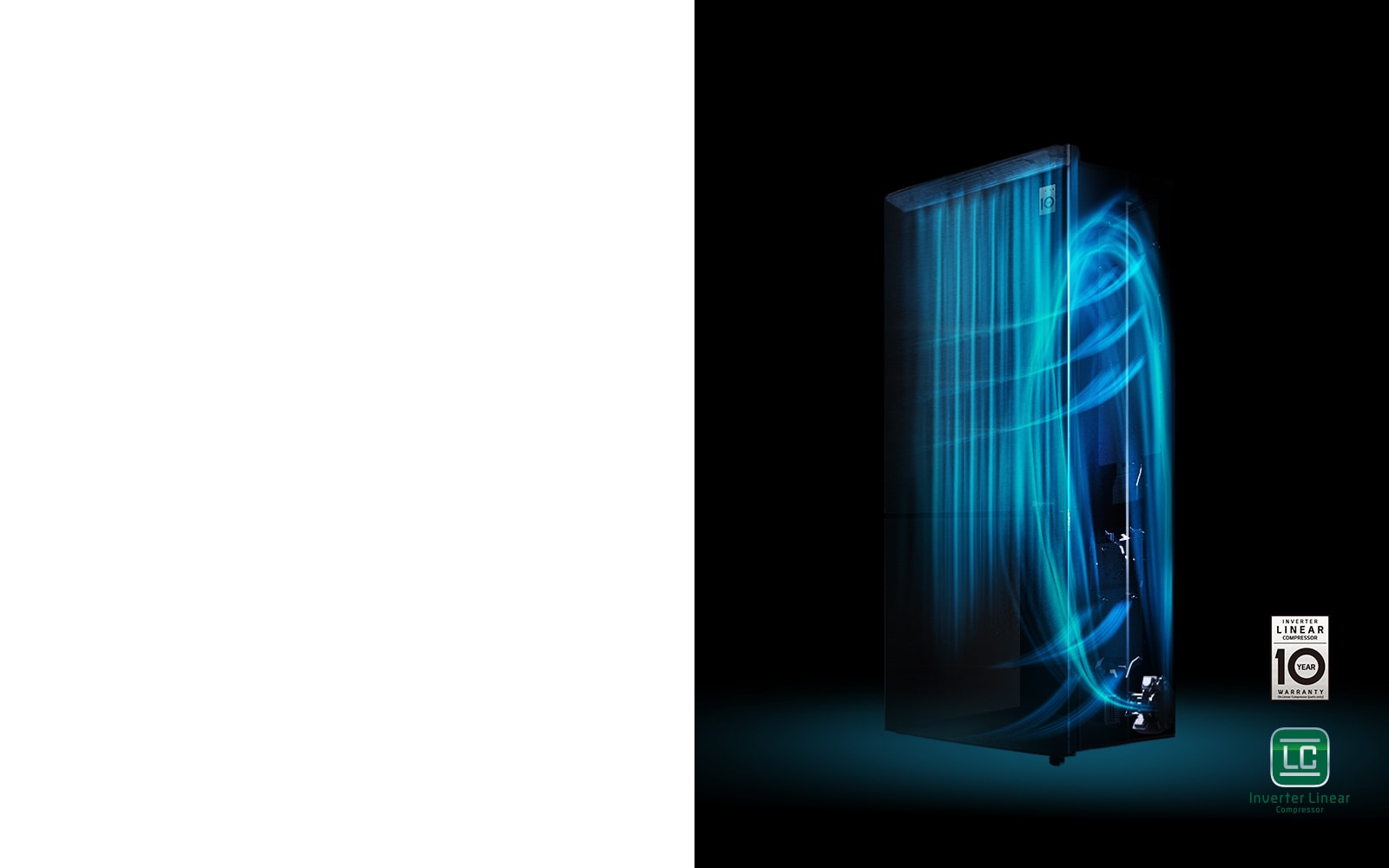 Inverter Linear Compressor
Efficient energy saving
Thanks to LG's Inverter Linear Compressor, it saves energy by having fewer friction points which also gives you less noise.
Smart Diagnosis ™
LG's Smart Diagnosis technology allows you to solve any problem in your refrigerator through an intelligent diagnosis that, through a Smartphone, detects possible faults and provides you with a solution guided by the service center, from your home.
How to keep our food fresher for longer?
The solution is precise temperature control
Uniform cooling at any time
The main indicator of freshness is uniform and constant cooling at any time. Linear Cooling makes the temperature fluctuation vary between ± 0.5 ℃.
Uniform cooling
LG DoorCooling + ™ makes the interior temperature more uniform and cools 35% faster than a conventional cooling system. Significantly reduces the gap between the inside of the conservator and the door of the conservator.
Fresh 0 Zone
Save defrosting time
Fresh 0 Zone controls a temperature around 0 ° C helping you cook without having to wait a long time to defrost.
CAPACITY Pᶟ
ISO (Gross) – Total

16.6

ISO (Net) – Total

15.5

ISO (Gross) – Freezer

4.8

ISO (Net) – Freezer

4.1

ISO (Gross) – Refrigerator

11.8

ISO (Net) – Refrigerator

11.3

Capacity based on NOM – Total

15.5

Capacity based on NOM – Refrigerator

–

NOM based capacity – Freezer

–
DIMENSION
Net (mm) – Width

700

Packaging (mm) – Width

740

Net (mm) – Height

1,780

Packaging (mm) – Height

1,860

Net (mm) – Total Depth

730

Packaging (mm) – Total depth

770
GENERAL CHARACTERISTICS
Smart Diagnosis ™

Yes

Monitor

I-Micom

Handle Type

Pub
REFRIGERATOR
Multi Air Flow ™

Yes

Tray – Tempered glass

Yes 2)

Tray – Removable tray

Yes

Basket Finish – Transparent

Yes (7)

Hygiene Fresh + / Deodorizer

Deodorizer

Light

LED (Top)

Vegetable Box – Basic

Yes

Vegetable Box – Humidity Controller

Yes

Cool zone

Yes

LINEARCooling ™

Yes

DoorCooling + ™

Yes
FREEZER
Tray – Tempered glass

Yes (1)

Basket Finish – Transparent

Yes 2)

Light

LED (Top)

Ice factory – Moving ice machine (twist type)

Yes
FINISH
Door Color – Material

Metal

Door Color – Name

Shiny steel