Features and Specifications
Model Number: NX60A6715SS
Modern and more durable kitchen
Premium stainless steel design
Give your kitchen a professional and modern look and enjoy better utility. The oven frame is made of stainless steel and features a flat, narrow bezel, making it look elegant and distinguished. Plus, its smooth, solid metal edges help it fit seamlessly and provide added durability.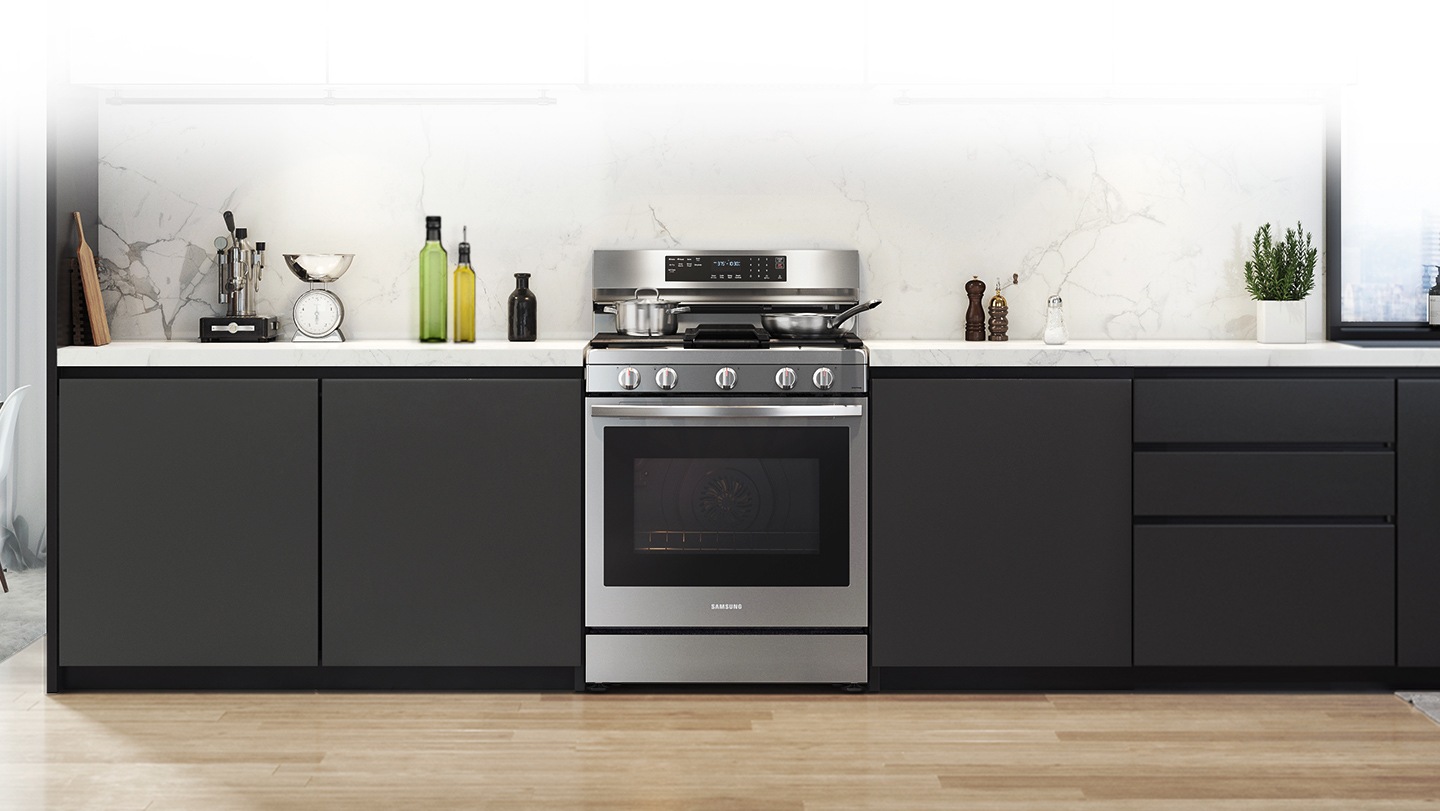 Enjoy healthier fried and crunchy foods
Fried foods, with air
Enjoy healthier fried foods without a deep fryer. The Air Fry mode combines a special tray with hot air circulation that wraps the food. It's the perfect way to cook French fries, potato cubes, or even veggies as it removes excess fat, but everything stays crisp and golden on the outside and juicy on the inside.
Quick and even cooking and baking
True convection
Save time and cook food more evenly with the True Convection system, ideal for baking and broiling. A hot fan distributes heat and maintains a constant temperature so your preparations cook faster and more evenly no matter where they are located or how large they are.
Cook much more in a bigger oven
Large capacity oven (6.0 cu ft)
Make preparations in greater quantity or size thanks to an oven that has a huge capacity of 6.0 cubic feet. Expand the possibilities of making homemade meals. You can prepare multiple dishes at once, like vegetables, cakes, or casseroles, or easily cook large meals, like a large roast chicken or Turkey for the holidays (with all the side dishes).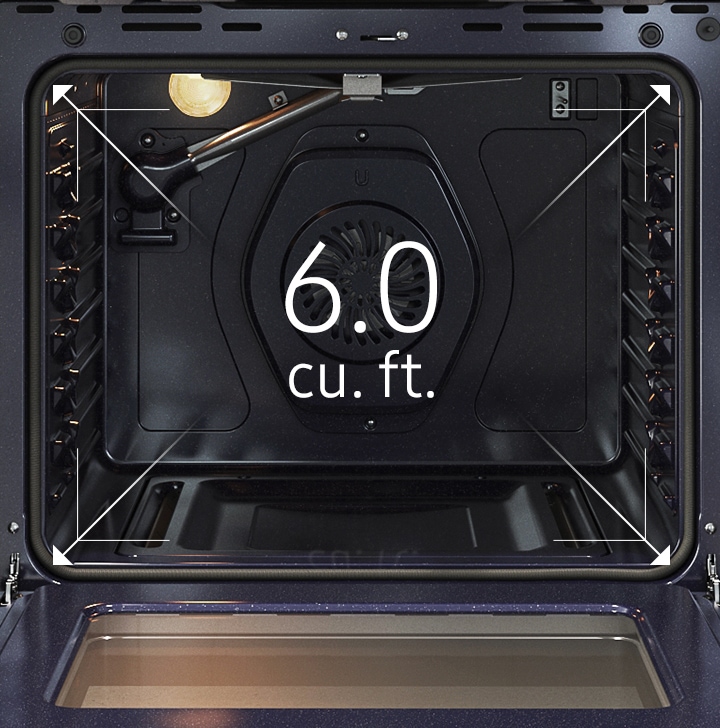 Cook simply, entertainingly and effortlessly
Voice control and wifi
Make your culinary experience simpler and more joyful. The oven is Wi-Fi enabled so you can easily control its functions using a voice assistant *, such as Samsung Bixby **. Additionally, SmartThings Cooking *** offers recipes ****, meal plans, a guided culinary experience *****, and effortless shopping ******.
* Wi-Fi connection is required.
** Bixby is Samsung's brand of artificial intelligence (AI) / Internet of Things (IoT) voice assistant. Samsung account required.
*** Available on Android and iOS devices. Wi-Fi connection is required.
**** Available in select languages, including English, French, German, Italian, and Mexican Spanish.
***** Only available in Oven mode.
****** Only available in the UK and Germany. Other countries will be added soon.
A perfect stress-free culinary experience
SmartThings Cooking
Make your culinary experience more entertaining. SmartThings Cooking saves time and minimizes the burden of cooking. Understanding your needs, he recommends personalized recipes. It also generates a weekly meal plan, allows for hassle-free grocery shopping, and offers an interactive experience.
Total brightness
Fingerprint resistant finish
Fingerprint resistance for a beautiful finish every day.
Materials / Finishes
Oven color

Stainless steel
Control type (oven)

Electronic
Control type (stove)

Knob
Door type

Single door (4 layers of stainless steel)
Characteristics
Fried foods, with air

Yes
Interior Light (Position)

1 x 40V incandescent light (rear)
Light (Lamp) On / Off Yes
Setting (clock system option (12H / 24H) Yes
Cooking surface
Stove frame

Stainless steel (in full)
Burner 1

14 500 – Right / Front
Burner 2

14 500 – Left / Front
Burner 3

4000 – Right / rear
Burner 4

7500 – Left / Rear
General characteristics
Convection

True convection
Baking (individual)

175 ° F (80 ° C) – 550 ° F (285 ° C)
Variable roast (low-high) (individual)

High Low
Convection Bake (Single)

175 ° F (80 ° C) – 550 ° F (285 ° C)
Convection Roast (Individual)

175 ° F (80 ° C) – 550 ° F (285 ° C)
Feeding / Rating
Convection cooking element

800W
Weights / Dimensions
Net (width x height x depth)

(761) x (1176.9 ~ 1195.5) x (728.6)
Net weight)

86.1 kg (188.5 lbs)
Accessories
Number of Rack Positions

7
Application connectivity
Support for SmartThings applications